November, 2023
Electronics Giant Foxconn Awards Exolaunch with Contract to Deploy the Group's First Satellites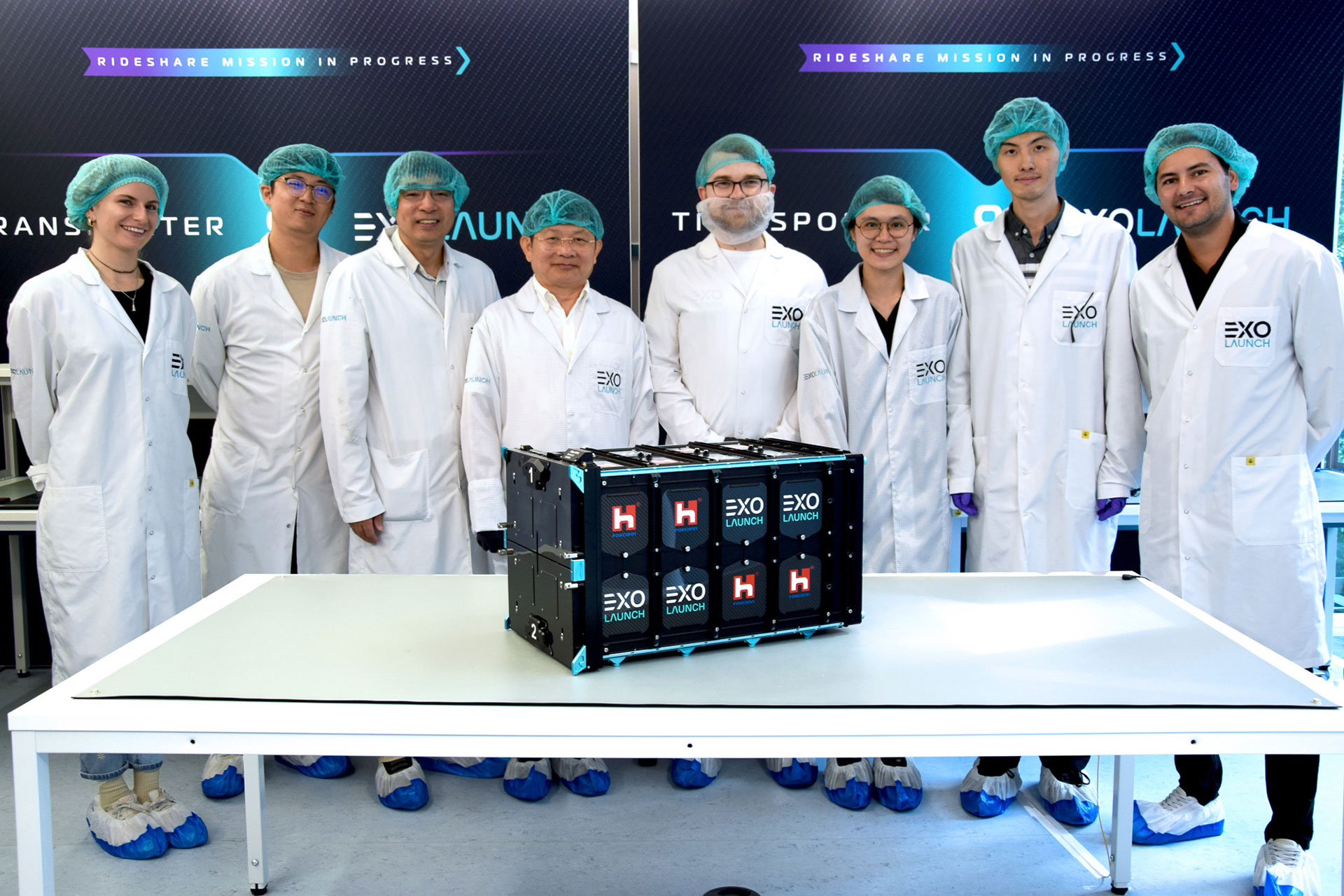 Image: Foxconn and Exolaunch teams having successfully integrated PEARL-1H and PEARL-1C with EXOpod Nova, © Exolaunch
Exolaunch adds a new APAC customer to its rapidly diversifying portfolio

Exolaunch will provide mission management, integration services, deployment hardware and services for Foxconn's inaugural set of satellites

The satellites will launch onboard SpaceX's Falcon 9 on the Transporter-9 mission no earlier than November 2023
Berlin, Germany / Taipei, Taiwan — November 6, 2023 — Exolaunch has signed a launch services agreement (LSA) with Hon Hai Technology Group ("Foxconn") to provide mission management, integration services orbital deployment hardware and services for Foxconn's first ever satellites.
Exolaunch is a global provider of small satellite launch mission management and deployment services, having deployed over 320 satellites into orbit using its proprietary separation technologies on the most frequent and reliable launch vehicles on the market. As with past integrations and deployments for A-list constellation providers like Spire Global, ICEYE and Kongsberg NanoAvionics, Exolaunch will play an integral role in Foxconn's long-term success in space.
The satellites, named PEARL-1H and PEARL-1C, are scheduled to launch on SpaceX's Falcon 9 via Exolaunch during the Transporter-9 mission from Space Launch Complex 4E (SLC-4E) at Vandenberg Space Force Base in California no earlier than November 2023. Along with end-to-end mission management, integration and deployment services, Exolaunch is providing Foxconn with its record-setting EXOpod Nova deployer.
Image: Foxconn and Exolaunch teams integrating a Foxconn satellite with EXOpod Nova, © Exolaunch
"This latest LSA with Foxconn comes at a watershed moment for Exolaunch, as we are broadening our team and capabilities within the launch service industry globally," said Jeanne Allarie, Chief Commercial Officer (CCO) at Exolaunch. "Exolaunch has worked directly with customers over the last ten years listening closely to the needs of cutting-edge satellite industry players. Supporting a company as widely known and depended on as Foxconn is an honor and culmination of this hard work."
"This is a pilot run as proof of the concept for our efforts in LEO satellite broadband communications and next-gen, beyond 5G (B5G) capabilities. It is also a great example of collaboration between academia and industry. Exolaunch plays a crucial role in getting our mission to space," said Dr Jen-Ming Wu, Director of the Next-generation Communications Research Center at Hon Hai Research Institute.
"In the B5G and new space era, the launch of LEO satellites will become ever more cost-competitive and convenient. Foxconn's first PEARL is meant to show we will be ready to meet the increase in demand for key components, sub-system, and assembly integration test, driving higher circulation and innovation in the new space industry," said Jesse Chao Sr. Director, B5G Policy, Corporate Policy at Foxconn.
About Exolaunch
Exolaunch (Germany, USA) is the fastest-growing provider of rideshare launch services and in-space logistics products and services for the NewSpace industry. With a decade of flight heritage and over 320 satellites launched across 23 missions (as of November 2023), Exolaunch leverages industry insight to tailor turnkey solutions that meet customer needs and respond to market trends. Exolaunch fulfills launch contracts for NewSpace industry leaders, the world's most innovative start-ups, research institutions, government organizations, and space agencies around the world. The company develops and manufactures its own flight-proven and industry-leading small satellite separation systems, with the fastest growing heritage on the market. Exolaunch is also developing Reliant, a line of environmentally friendly orbital transfer vehicles (OTVs), for last-mile satellite delivery, in-space logistics, and space debris removal. Exolaunch is committed to making space accessible and promoting its safe, sustainable, and responsible use.
For more information, please visit www.exolaunch.com or reach out at [email protected]
For media inquiries, please contact Jean Lévy
About Hon Hai Technology Group (Foxconn)
Established in 1974 in Taiwan, Hon Hai Technology Group ("Foxconn") (TWSE:2317) is the world's largest electronics manufacturer and leading technological solutions provider, ranking in the top 30 among the Fortune Global 500. In 2022, revenue totaled TWD6.62 trillion (approx. USD220 billion or EUR200 billion). The Group's market share in electronics manufacturing services (EMS) exceeds 40% and covers four major product segments: smart consumer electronics; cloud and networking; computing; and components and others. The Group operates 173 campuses across 24 countries and is one of the world's largest employers with over a million employees during peak manufacturing season. The Group has expanded its capabilities into the development of electric vehicles, digital health, and robotics, and three key technologies – new-generation communications technology, AI, and semiconductors – which are key to driving its long-term growth strategy. It is dedicated to championing environmental sustainability in the manufacturing process and serving as a best-practices model for global enterprises. To learn more, visit www.honhai.com
Subscribe to follow our latest news, updates and innovations as they happen
Ready to go
to space?
Let's chat. Get in touch and we'll be with you shortly.