November, 2022
OHB Sweden and Exolaunch Sign Hardware Agreement to Deploy MATS Satellite into Orbit
OHB Sweden's MATS satellite to be deployed from a Rocket Lab Electron launch vehicle via Exolaunch's CarboNIX shock-free separation system
Stockholm, Sweden / Berlin, Germany – 03 November, 2022 - OHB Sweden, a Swedish provider of small satellites, altitude & orbit control (AOCS) and propulsion subsystems and satellite mission management solutions, has signed a hardware agreement with Exolaunch, for the launch of its MATS microsatellite, which is set for no earlier than November 4th, 2022.
IMAGE CREDITS: OHB / ROCKETLAB / EXOLAUNCH
MATS (Mesospheric Airglow/Aerosol Tomography and Spectroscopy) is a microsatellite built from OHB Sweden's InnoSat concept, a versatile and low-cost microsatellite bus designed to host a wide range of space missions in low earth orbit. MATS's two-year mission is to observe and gather detailed data on atmospheric waves within the Earth's mesosphere (the near-space layer above the stratosphere), which will be analyzed and modeled to accurately predict ongoing mesospheric changes. The satellite has a mass of 54 kg and a size of 60×70×85 cm.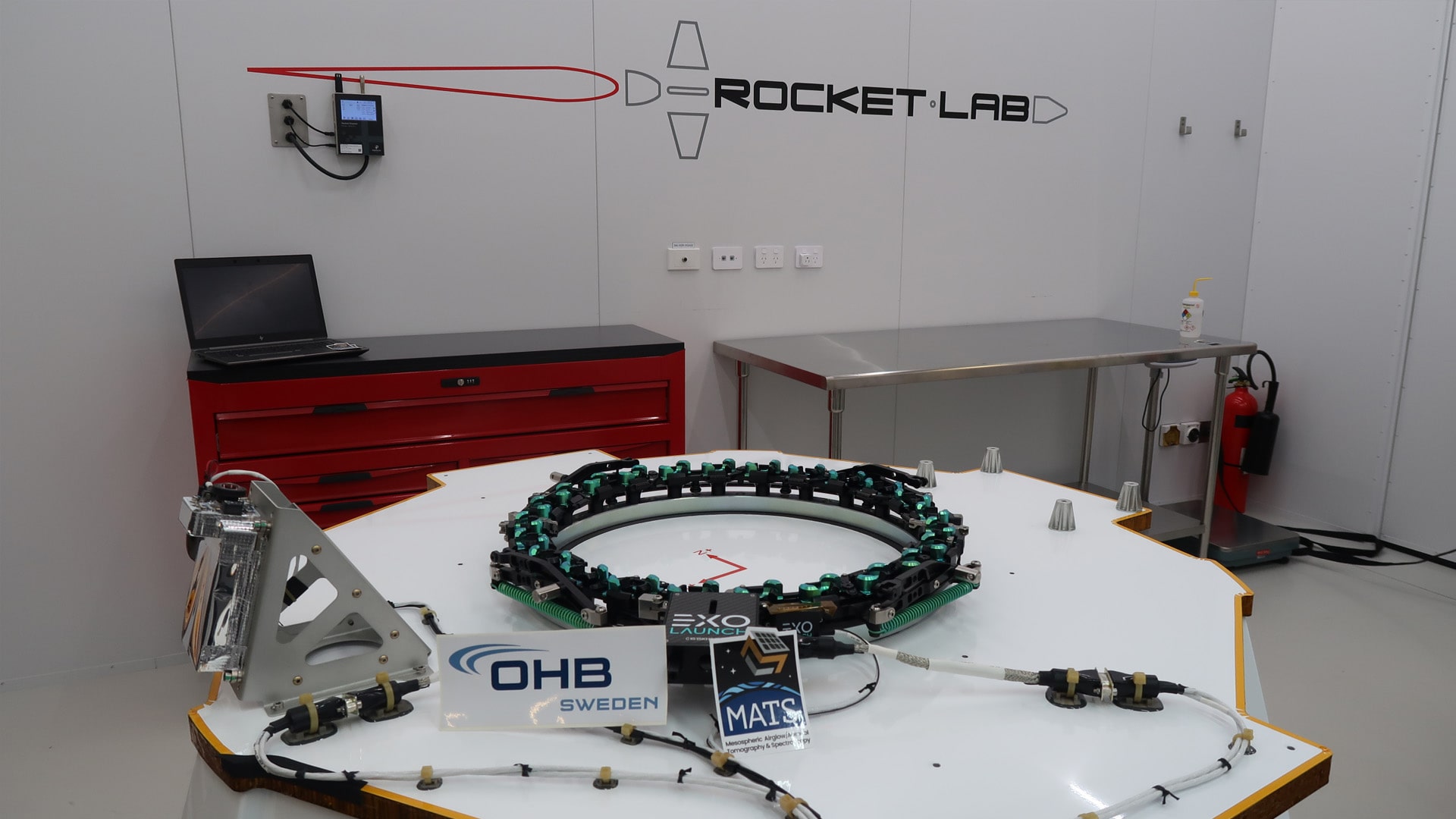 IMAGE CREDITS: OHB / ROCKETLAB / EXOLAUNCH
MATS's optical payload was developed by AAC Omnisys, while its mission data is to be compiled and analyzed by researchers at Stockholm University, Chalmers University of Technology in Gothenburg and KTH Royal Institute of Technology in Stockholm. The mission is funded by the Swedish state through the Swedish National Space Agency and is planned and overseen by OHB Sweden.
IMAGE CREDITS: OHB / ROCKETLAB / EXOLAUNCH
The launch provider for the MATS mission is US-based Rocket Lab. The satellite is set to launch via a reusable Electron rocket from Rocket Lab Launch Complex 1 in New Zealand, with a launch window targeting no earlier than November 4th UTC (17:15-18:30).
"OHB Sweden is happy to rely on the safe deployment of MATS in orbit through Exolaunch's shock-free CarboNIX separation system" says Nils Pokrupa, MATS project manager at OHB Sweden.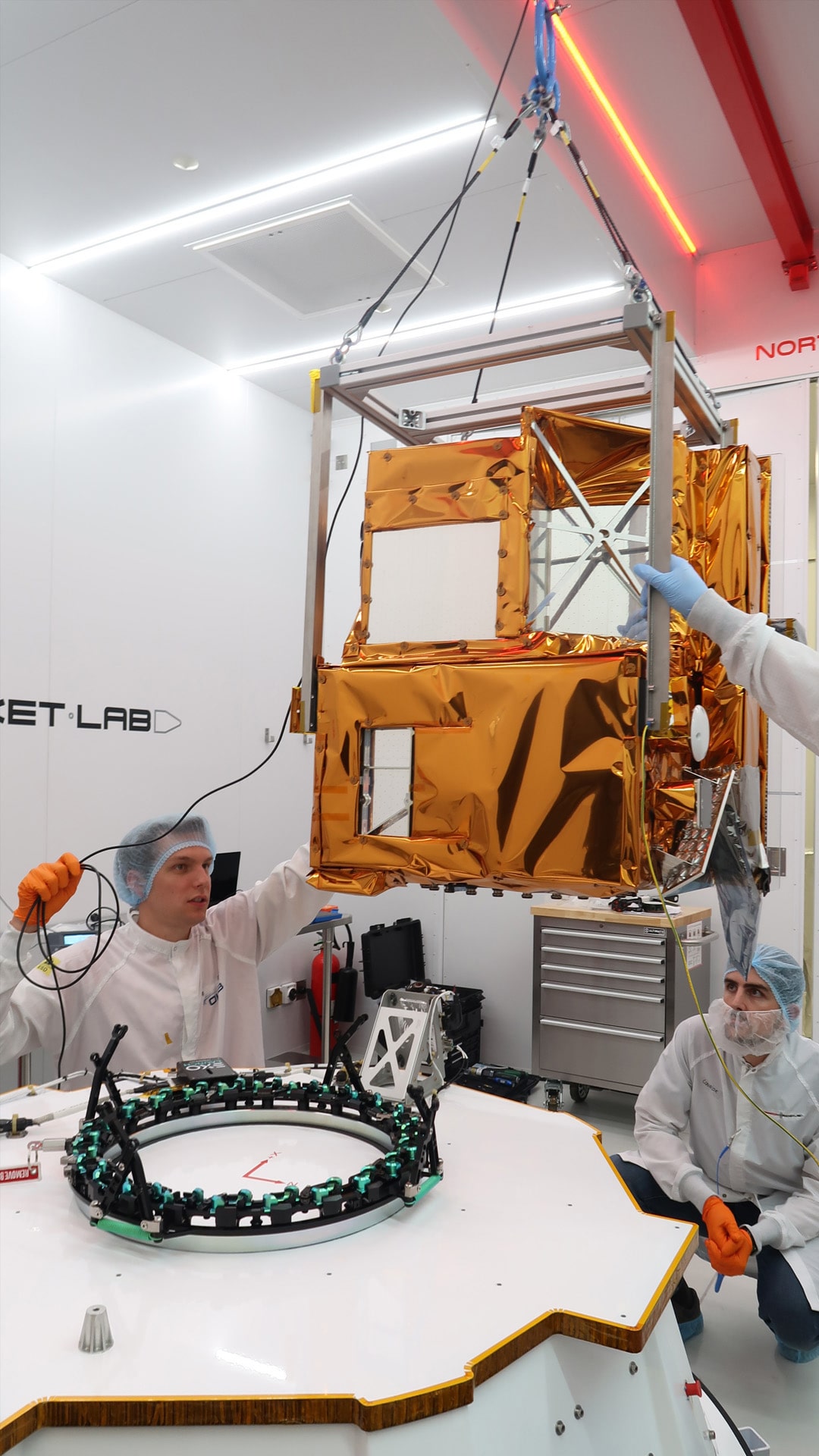 IMAGE CREDITS: OHB / ROCKETLAB / EXOLAUNCH
"We at Exolaunch are proud to be working with OHB Sweden on this important scientific mission," says Connor Pollock, Mission Director at Exolaunch. "Accurate atmospheric data and prediction models have become increasingly vital for a wide range of applications and strategies. It's therefore essential to ensure observation satellites reach orbit with their sensitive optical payloads intact and functional, a solution for which we are happy to provide."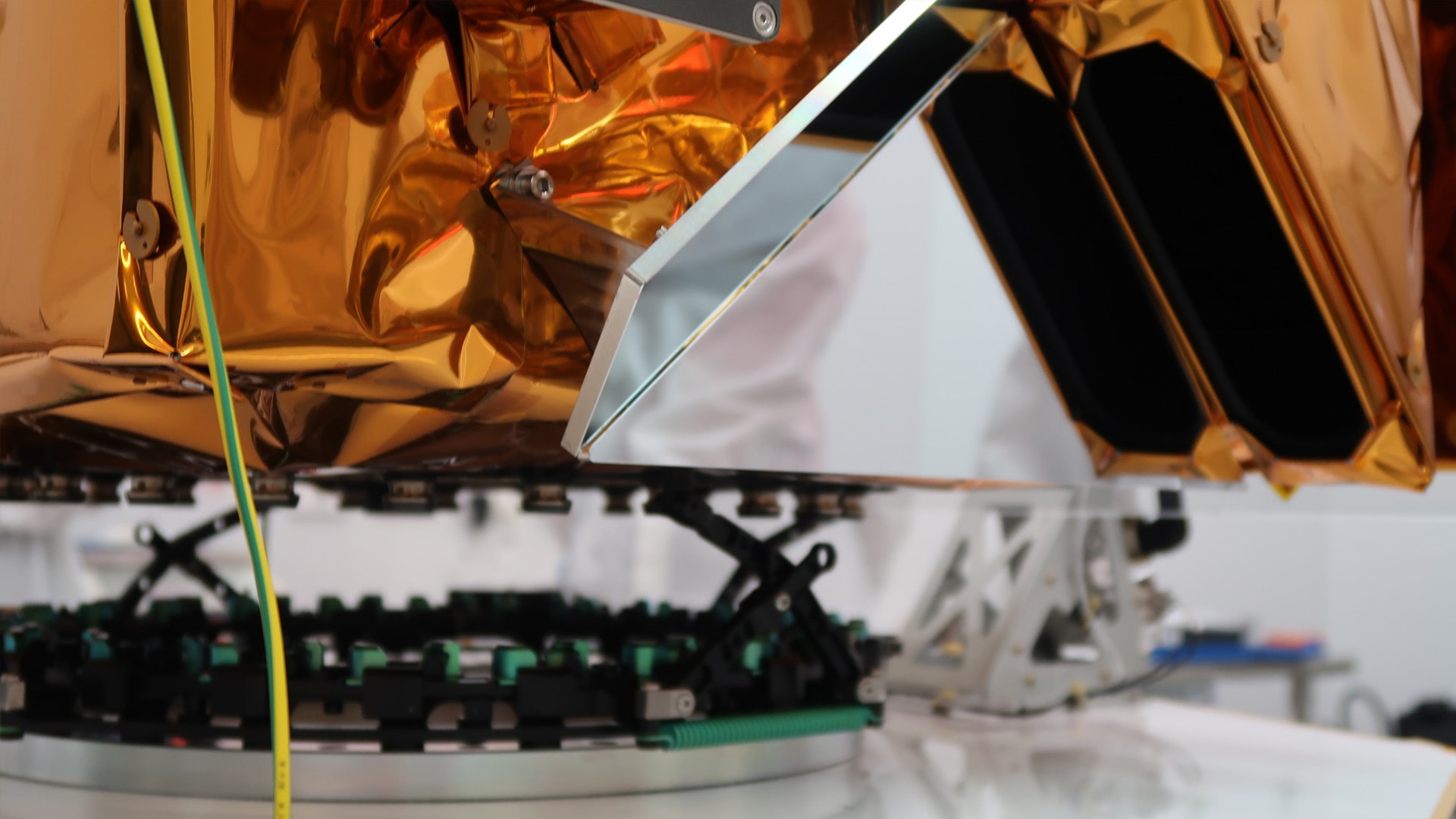 IMAGE CREDITS: OHB / ROCKETLAB / EXOLAUNCH
The MATS satellite will be integrated to the launch vehicle and deployed into sun-synchronous orbit by CarboNIX, Exolaunch's scalable shock-free microsat separation ring. CarboNIX deploys satellites seamlessly and evenly via its patented synchronous spring pusher system, minimizing risk of damage to sensitive electronic and optical components. CarboNIX also ensures an average tumbling rate of under 1° per second post-release on all three axes, making it the lowest-shock and lowest-tumbling separation system yet deployed in space. CarboNIX has so far flown on nine space missions and deployed nearly 40 microsatellites with a flawless success rate.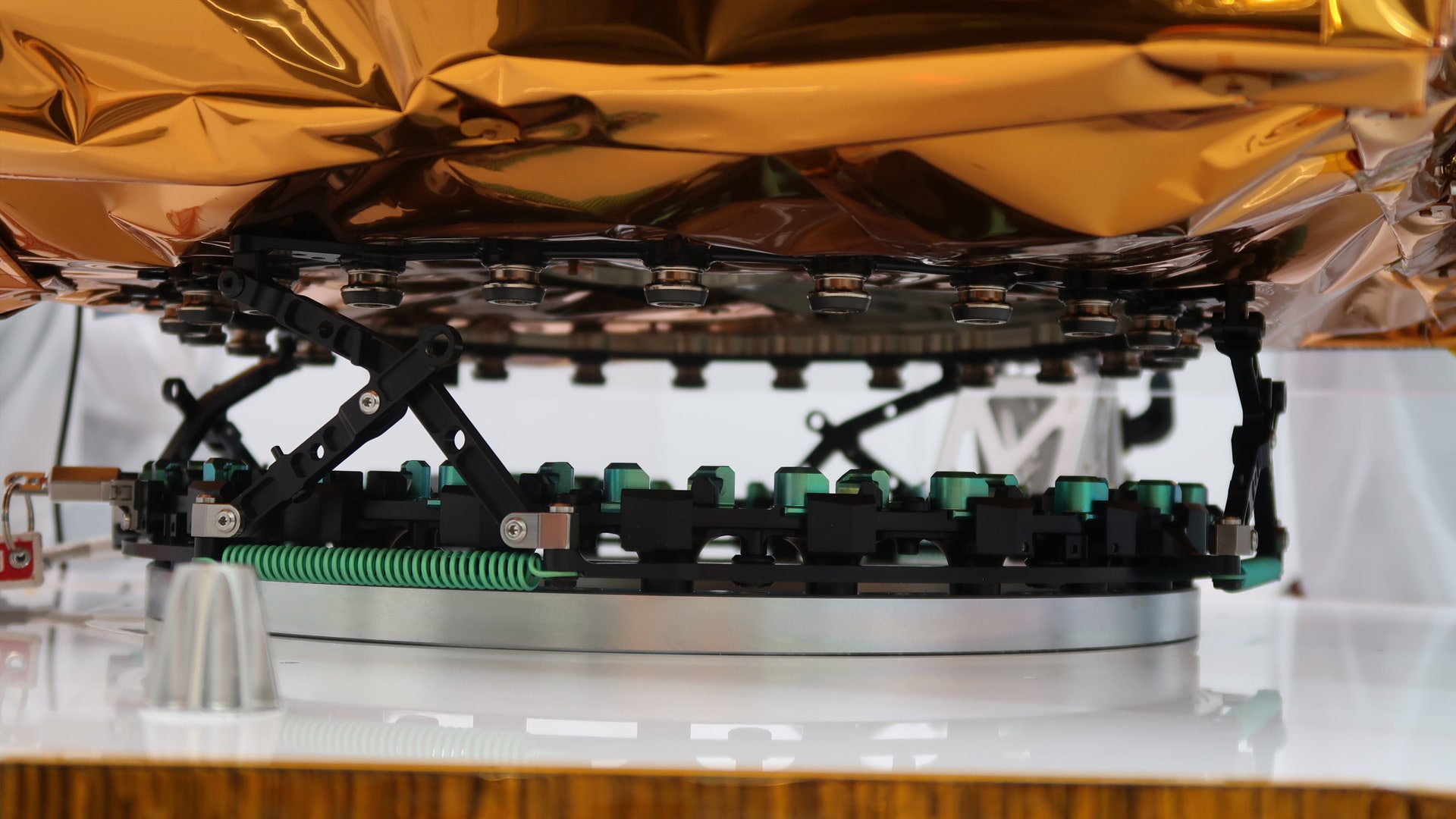 IMAGE CREDITS: OHB / ROCKETLAB / EXOLAUNCH
"Exolaunch is honored to stand by European NewSpace companies such as OHB Sweden as they continue to advance their endeavors in space," says Jeanne Allarie, VP of Launch at Exolaunch. "A key part of our company's mission is to help foster and expand the European space ecosystem, and we hope to continue to assist OHB Sweden and future InnoSat launches going forward."
About OHB Sweden
OHB Sweden is a provider of small satellites, AOCS and propulsion subsystems and satellite mission management. With over 30 years of success on a wide range of space missions in orbit and between planets, the company has acquired a first-class reputation of reliable and innovative satellite solutions. Achieving its success on the passion and exceptional talent of its employees and its extensive knowledge base, OHB Sweden continues to take on boundary-pushing new space missions with its expanding network of partners and customers.
For more information, visit www.ohb-sweden.se
About Exolaunch
Exolaunch (Germany, USA) is a global leader in rideshare launch, integration, deployment and in-space logistics products and services for the New Space industry. With a decade of flight heritage and 230+ satellites launched over 16 missions via a range of global launch vehicles, Exolaunch leverages keen industry insight to develop tailored turnkey solutions to meet customer needs and address market trends. Exolaunch fulfills launch contracts for NewSpace leaders, the world's most innovative startups, research institutions, government organizations and various space agencies. The company also manufactures flight-proven and industry-leading small satellite deployers and develops a line of environmentally friendly orbital transfer vehicles (OTVs), known as Reliant, for last-mile satellite delivery, in-space logistics and space debris removal. Exolaunch is committed to make orbit accessible to all and to promote the safe, sustainable and responsible use of space.
For more information, visit: www.exolaunch.com or reach out at info@exolaunch.com
For queries, please contact media@exolaunch.com
Subscribe to follow our latest news, updates and innovations as they happen
Ready to go
to space?
Let's chat. Get in touch and we'll be with you shortly.