September, 2022
Kenya Space Agency Signs Launch Services Agreement with Exolaunch for Upcoming Satellite Mission Aboard SpaceX's Falcon 9
This launch agreement enables new opportunity for Kenya's budding small satellite industry
Kenya, Africa / Berlin, Germany – 29 September, 2022 - The Kenya Space Agency (KSA), the country's designated institution to promote, coordinate and regulate space-related activities, and Exolaunch, a German provider of global launch, integration, deployment and in-space logistics services, announce a Launch Services Agreement (LSA) to fly the "Taifa-1" 3U small satellite to a sun-synchronous orbit aboard SpaceX's Falcon 9 Transporter-7 mission in 2023.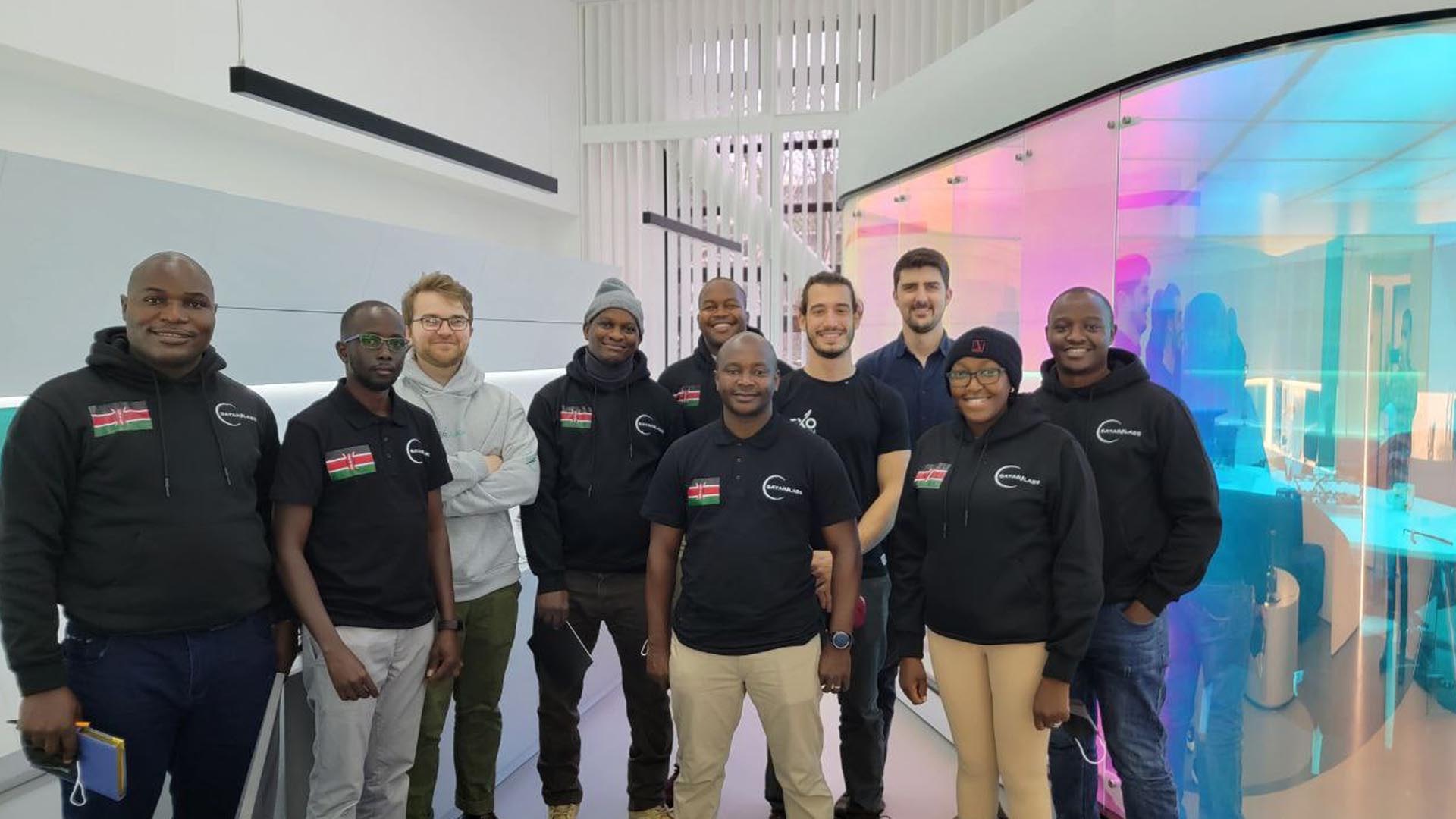 THE REPRESENTATIVES OF THE KENYA SPACE AGENCY, SAYARILABS AND EXOLAUNCH AT EXOLAUNCH'S OFFICE IN BERLIN
Amongst many other regions in the world, East Africa has battled severe drought, wildfires, and natural disasters that have devastating impacts on the community. Taifa-1 ("One Nation" in Swahili), designed and developed by SayariLabs in partnership with Endurosat under the guidance of the KSA, will provide the critical multi-spectral imagery of Kenya needed for applications in agriculture, security, land use/land cover, forestry resources and disaster management to help combat these conditions.
"Today, Kenya marks another milestone in her space history," says Colonel Hillary Kipkosgey, Acting Director-General of Kenya Space Agency. "With the signing of this Launch Service Agreement on Taifa-1 (meaning - One Nation), it is a confirmation that our country, and as a people, we are making bold steps to venture into new frontiers while united as one nation. Under its mandate the Agency seeks to develop long-term indigenous space capabilities. Taifa-1 is just one of such missions and steps towards implementation of this long-term plan are earnestly in motion. Other key projects earmarked under this programme include realization of a Kenyan constellation of satellites, establishing ground infrastructure for Telemetry Tracking and Command, and data acquisition, development of microsatellite R&D laboratories, reclaiming our strategic launch capability, and open data cube with analytics among other capabilities."
"Exolaunch is honored to provide our launch and deployment services to KSA's upcoming Taifa-1 mission, and we are grateful they have entrusted us as their launch partner," says Kier Fortier, Exolaunch's Director of Launch USA. "We believe in the technology and innovations of our customers and are excited to support the Kenya Space Agency as they continue to develop essential technology for the East Africa region at this critical time. This mission also marks Exolaunch's first partnership with an African customer, a mutually beneficial result of KSA's efforts to foster and expand Kenya's space industry."
"SayariLabs is on a mission of democratizing these industries for all interested players in the African region and in making Kenya a space giant in the next generation," says Aaron Nzau, founder and CEO of SayariLabs. "With the advancement of technology this fantasy is quickly becoming a reality. Our partnership with Endurosat, a leading company in this industry, is a major game-changer and it strengthens our hope and belief of being a major space and satellite solution provider in Kenya, the African region and other parts of the world."
Exolaunch is set to launch and deploy the Taifa-1 satellite via its EXOpod deployer aboard a SpaceX Falcon 9 Transporter rideshare mission in early 2023. The company is also providing comprehensive mission management, environmental testing and Falcon 9 integration services to ensure Taifa-1 arrives safely in orbit.
Exolaunch has so far deployed over 100 smallsats on SpaceX's first five rideshare Transporter missions via its Multi-Launch Agreement, serving as the crucial link between satellite developer and launch provider to a wide range of global customers.
About Kenya Space Agency
Kenya Space Agency is a state corporation with the mandate to promote, coordinate and regulate space-related activities in Kenya. In its current strategic plan, KSA seeks to establish critical infrastructure that will enable it deliver on its core mandate and establish a robust indigenous space ecosystem.
As Kenya's part of the long-term space agenda, KSA envisions to launch satellites for different application areas, operate ground stations to track and acquire data from these satellites and operate launch sites on behalf of the Government of Kenya. As its first mission, KSA is to launch TAIFA-1 satellite in February 2023. This space mission is a 3U Nano-satellite bearing a multispectral imager with a target area over Kenya. The satellite is to be launched to a Sun Synchronous Orbit at an altitude of 550 km. The imagery that will be acquired from this satellite shall be for use by the Agency and relevant stakeholders.
About Sayari labs
SayariLabs is an aerospace startup intent on building local capacity in satellite technology for Kenya, and responding to unique challenges in climate change, food security, natural disasters and national security that plague the region by providing affordable, innovative and world-class space solutions.
About Exolaunch
Exolaunch (Germany, USA) is a global leader in rideshare launch, integration, deployment and in-space logistics products and services for the New Space industry. With a decade of flight heritage and 230+ satellites launched over 16 missions via a range of global launch vehicles, Exolaunch leverages keen industry insight to develop tailored one-stop solutions to meet customer needs and address market trends. Exolaunch fulfils launch contracts for New Space leaders, the world's most innovative startups, research institutions, government organizations and various space agencies. The company also manufactures flight-proven and industry-leading small satellite deployers and develops a line of environmentally friendly orbital transfer vehicles (OTVs), known as Reliant, for last-mile satellite delivery, in-space logistics and space debris removal. Exolaunch is committed to make orbit accessible to all and to promote the safe, sustainable and responsible use of space.
For more information, please visit: www.exolaunch.com or get in touch at info@exolaunch.com
For media queries, please contact media@exolaunch.com
Subscribe to follow our latest news, updates and innovations as they happen
Ready to go
to space?
Let's chat. Get in touch and we'll be with you shortly.