March, 2022
Norwegian Defence Research Establishment (FFI) Awards a Launch Contract to Exolaunch for the ARCSAT Satellite
FFI's newest satellite for improving tactical communication in the Artic will be launched into orbit via Exolaunch aboard the SpaceX's Falcon 9 Transporter-4 mission NET April 2022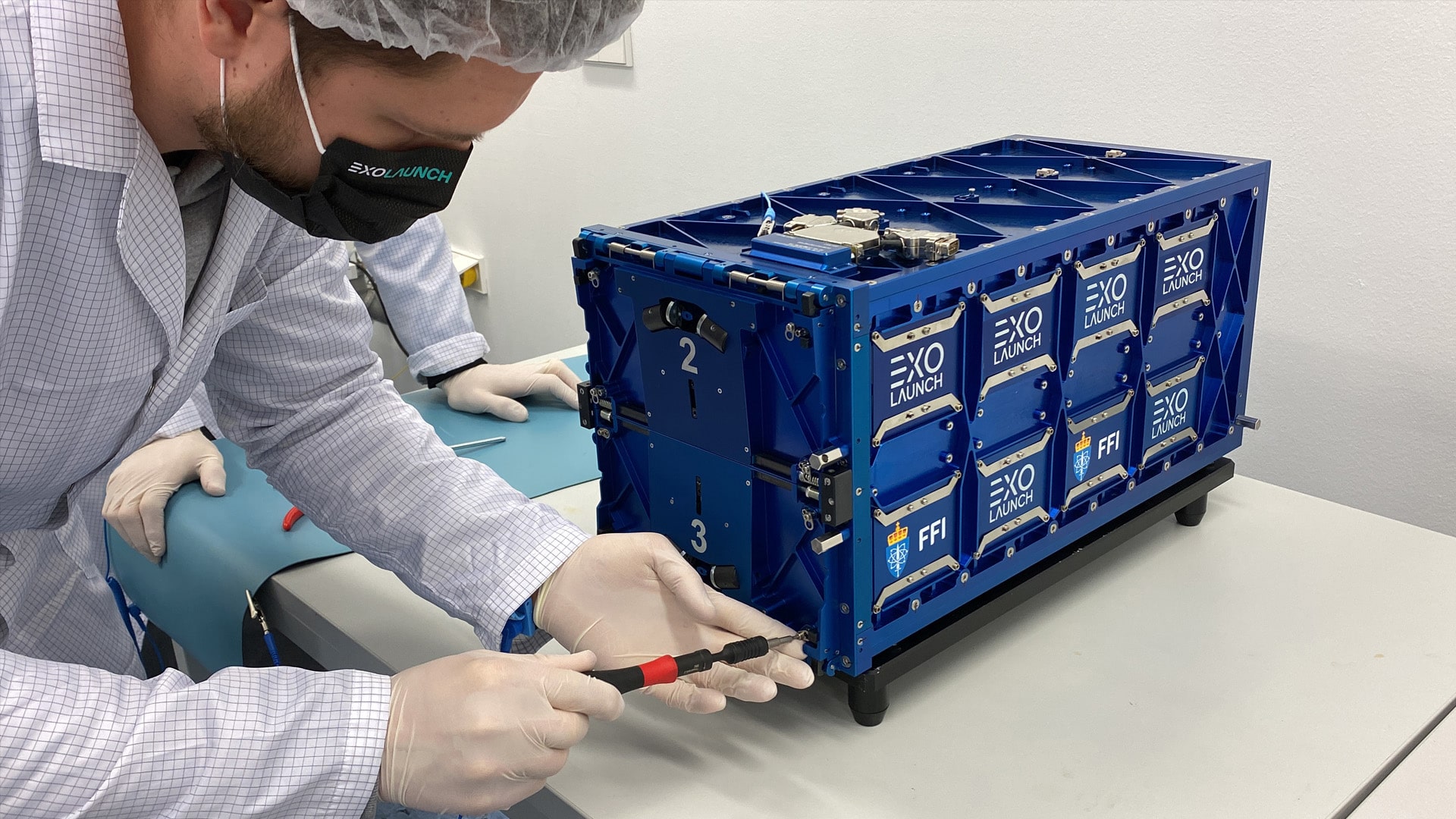 IMAGE CREDITS © EXOLAUNCH
Kjeller, Norway / Berlin, Germany – March 10, 2022 – Norwegian Defence Research Establishment (FFI), the prime institution responsible for defence-related research in Norway, has awarded a contract to Exolaunch, a global provider of launch, in-space logistics and deployment services for small satellites, to launch its ARCSAT satellite aboard SpaceX's Falcon 9. The teams of Exolaunch and GomSpace, the ARCSAT's satellite manufacturer, have just completed a successful integration of the ARCSAT satellite into its deployer at Exolaunch's headquarters in Berlin prior to shipment for the launch campaign at Cape Canaveral, Florida. The satellite is scheduled for launch to a sun-synchronous orbit with Falcon 9 NET April 2022 as part of SpaceX's SmallSat Rideshare Program.
ARCSAT is a 6U nanosatellite designed to demonstrate the use and relevance of a satellite relay for UHF communication at high latitudes. For a polar orbit above 500 km, the satellite will be able to cover any point on the Earth's surface ranging from 4 up to 15 daily passes at higher latitudes.
IMAGE CREDITS © EXOLAUNCH
Lars Erling Bråten, Principal Scientist at FFI, stated "We look forward to testing UHF communications in the High North via ARCSAT. The test and demonstration campaign will be important for determining the usefulness of non-geostationary TACSAT services."
Exolaunch, a global launch integrator working under a Multi-Launch Agreement with SpaceX, is providing launch services, satellite integration and deployment services for the FFI's satellite aboard Transporter-4 mission. To date, Exolaunch has arranged launches for 200 satellites for NewSpace industry leaders, start-ups, space agencies and academia. FFI will benefit from Exolaunch's proprietary deployment technologies, technical expertise, and decade-long unique flight heritage, to launch its satellite into a destined orbit.
Ms. Jeanne Allarie, VP Launch at Exolaunch, said "We are proud to have been selected by Norway's FFI as a launch partner to deliver the ARCSAT satellite into orbit aboard SpaceX Falcon 9. Fast access to space, flexible launch services and customer-centric approach have always been our core values and we can't wait to start the launch campaign for ARCSAT in less than a week."
About Norwegian Defence Research Establishment (FFI)
Norwegian Defence Research Establishment (FFI) is the prime institution responsible for defence-related research in Norway.
The Establishment is the chief adviser on defence-related science and technology to the Ministry of Defence and the Norwegian Armed Forces' military organization.
The demand for expert and flexible armed forces requires continuous renewal and Norway's unflagging emphasize on defence technology keeps FFI busy. It is a true challenge to make significant contributions to the development of the Armed Forces – both in its principal national defence role as well as in its various roles as an effective participant in international security operations.
Relevant defence research now requires international cooperation. In order to maintain a position at the forefront of science and technology within chosen sectors, FFI collaborates with national and international scientific institutions and industry. The Establishment also has a close working relationship with its partners and customers.
For more information, visit: www.ffi.no/en or get in touch at [email protected]
For media queries, please contact +47 63 80 71 30 / +47 993 87 130 or [email protected]
About Exolaunch
Exolaunch (Germany, USA) is a global leader in rideshare launches, deployment, in-space logistics and integration services for the NewSpace industry. With a decade of flight heritage and close to 200 satellites launched on 14 missions of various launch vehicles around the world. With Exolaunch's industry insight, it can leverage to develop one-stop-shop solutions tailored towards meeting customer requirements and addressing market trends. Exolaunch executes launch contracts for NewSpace leaders, the world's most innovative start-ups, research institutions, government organizations and space agencies. Exolaunch manufactures lightweight and flight-proven separation systems to deliver integration and deployment services for small satellites. The company is also developing a line of environmentally friendly orbital transfer vehicles named Reliant for the satellite last-mile transportation and space debris removal. Exolaunch is committed to making space accessible for everyone and to promoting safe, sustainable, and responsible use of space.
For more information, visit: www.exolaunch.com or get in touch at [email protected]
For media queries, please contact [email protected]
Subscribe to follow our latest news, updates and innovations as they happen
Ready to go
to space?
Let's chat. Get in touch and we'll be with you shortly.